Christmas Cheer Activities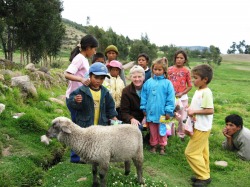 On December 18th
, we travelled the back roads and passed through the smallest of villages of Chiara distributing Christmas toys and treats to hundreds of children who would have otherwise received nothing this holiday season.

It was an incredibly joyful and rewarding day.

It was also a baffling day as we encountered at each stop much smaller groups than in previous years and we felt a bit sad returning home with many gifts and treats remaining.

Happily, that's not the end of the story.
On December 24th we finalized plans to collaborate with another local organization working with teens and adolescents in Yanamilla, a low-income area of Ayacucho, and on December 26th, the sadness we felt after our Chiara trip turned to joy as 600 additional children received gifts thanks to generous support from donors like you.

See our Christmas in Chiara 2010 photos on Facebook.
Posted: Dec. 31, 2010
---
KATC Celebrates Second Anniversary.

Happy Anniversary KATC!

Kids at the Crossroads celebrated its second anniversary on June 1, 2010. In our second year, our total annual attendance of 16, 428 was up 66% from our first year and average daily attendance grew from 34 to 58. We served more than 19,000 hearty snacks--an average of 67 per day and up 40% from our first year. Eighty children attended summer classes at KATC and more than 120 children received school supplies and help with school uniforms. We tripled the size of our library and added a diverse reference section to help with homework and special topics. Social workers, nurses, psychologists, and drug counselors presented monthly workshops on topics ranging from domestic violence, personal hygiene, self-esteem, communication, and the dangers of drug use. We hosted many special events and outings and nearly 850 children in rural Chiara and Ayacucho received Christmas treats and small gifts.

We celebrated the day and the year with a lunch on June 5th for 115 children who participate in the KATC program. It was a day for fun and games for everyone. During a short program, the children presented thank-you cards they had made to Alejandro and Hilde, the owners of the house in which we are located. Hilde and Alejandro are always there to help with special events, cook, run errands, tolerate the noise we make everyday, and generously offer us more and more of their personal space without increasing our rent. KATC is very grateful for their ongoing and good-natured support and generosity. Several of the children also recited poems and entertained us with songs before we ended the festivities with cake and chicha (traditional corn punch).

---