Our mission is to help break the cycle of poverty in low-income communities
By preparing and empowering children & adolescents
To become productive, responsible and self-sufficient adults.

---
To achieve our objectives, Kids at the Crossroads Peru (KATC) runs the following programs free of charge for low-income children in city and rural areas of Ayacucho, Peru:


After-School Program
A good education is the greatest resource we can give children to move beyond the bounds of poverty. KATC-Acuchimay is our after school program benefitting children in Carmen Alto with five days a week of after-school educational activities and services.
---

Rural Schools Program
Poor areas of Peru lack basic school supplies, books and teaching materials. Annually KATC distributes essentials (paper, pencils, chalk, books, dictionaries and more) to 180+ school children in rural villages surrounding Ayacucho city.
---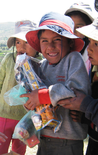 Christmas Cheer Program
Each year KATC hand delivers a toy, hot cocoa and traditional Christmas bread to as many as 1,500 children living in extreme poverty in the remote highlands of Peru. For a few days each year, we simply want kids to enjoy the fun of being a kid at Christmastime!
---