Our mission is to help break the cycle of poverty in low-income communities
By preparing and empowering children & adolescents
To become productive, responsible and self-sufficient adults.

---
The holidays are fast approaching...now is the time to help us with our annual Christmas Cheer project!
To achieve our objectives, Kids at the Crossroads Peru (KATC) runs the following programs free of charge for low-income children in city and rural areas of Ayacucho, Peru:


After-School Program
A good education is the greatest resource we can give children to move beyond the bounds of poverty. KATC-Acuchimay is our after school program benefitting children in Carmen Alto with five days a week of after-school educational activities and services.
---

Rural Schools Program
Poor areas of Peru lack basic school supplies, books and teaching materials. Annually KATC distributes essentials (paper, pencils, chalk, books, dictionaries and more) to 180+ school children in rural villages surrounding Ayacucho city.
---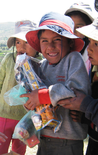 Christmas Cheer Program ~ help us reach 1,500 kids this year!
Each year KATC hand delivers a toy, hot cocoa and traditional Christmas bread to as many as 1,500 children living in extreme poverty in the remote highlands of Peru. For a few days each year, we simply want kids to enjoy the fun of being a kid at Christmastime!
---